Game Control Mixer (GCM100)
---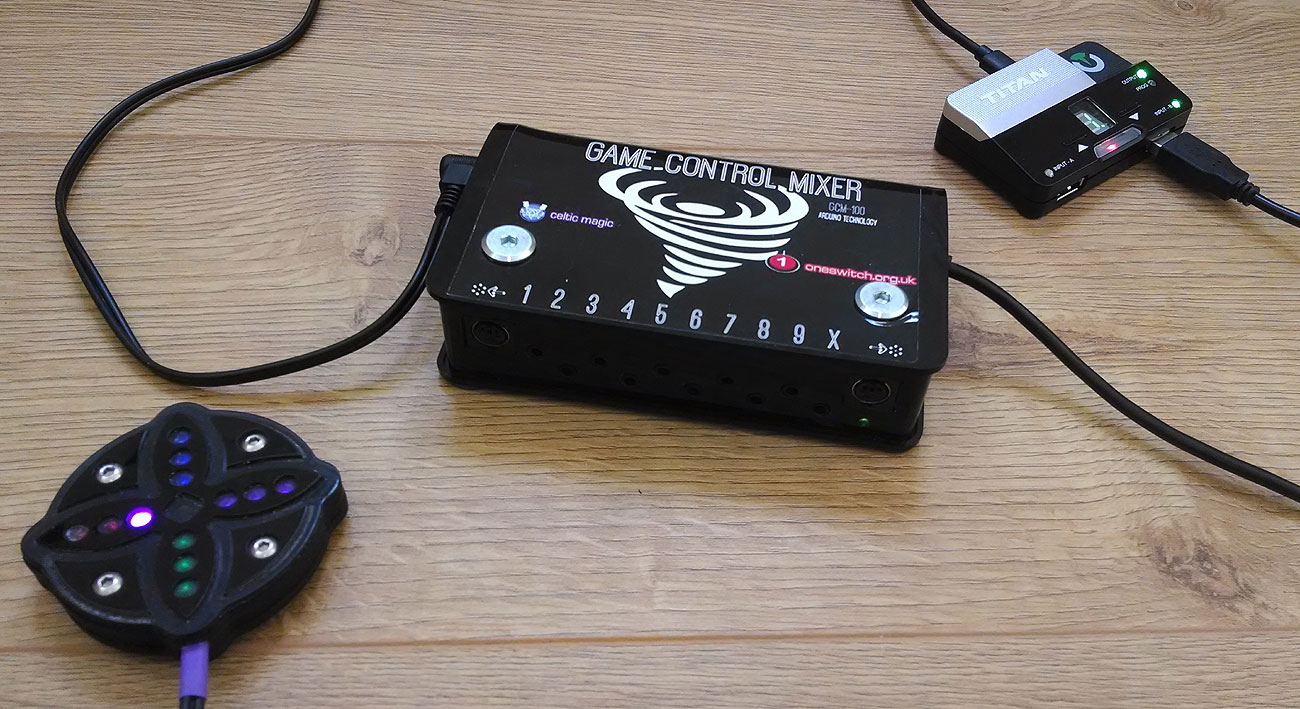 ---

£300 GCM100
£350 GCM100 + LED compass
£480 GCM100P (sip-puff Goose Neck or Headset) + LED compass
+Accessories
POA Customisation


The Game Control Mixer (GCM) is a powerful accessible gaming system. A wide range of input devices including switches, joysticks, joypads, speech and more can be mixed together to form a single player controller.

A special "SHIFT" switch enables players to reach more controls than they may be able to otherwise. This One Stick and Two Buttons gaming booklet (video here) shows many games possible to play with this system with a small number of controls.

Up to 4 joysticks can be set individually to one of 24 different play modes. Mix these as needed at any time.
GCM100 Instructions - including help guides.
GCM 1 Stick 2 Buttons gaming booklet - a list of excellent games possible to play with the GCM system, one stick and two buttons.


Please get in touch for more information, customisation and purchasing details.
REACH all controls with 1 stick + 1 switch.


COMPATIBLE with PC, Xbox, Playstation, Nintendo Switch, RetroPie and more.


SWITCH accessible.


SHIFT modes. Reach and do more.


JOYSTICKS: 1-4 can be set to any of 24 modes any time. Quality plug in joysticks available.


CO-PILOT: Use a standard gamepad in the mix for extra control or just for basic help from another.


MIX controls for yourself or as part of a team as needed. Suits a huge range of abilities.


SPEECH: Attach a Windows PC to mix in keyboard and mouse utilities, such as Voice Attack, as part of the mix.

---
---
CUSTOMISATION: Get in touch for extra options. Much is possible including light-weight controls, simpler SHIFT modes and on and on.


CHILD LOCK: Restricted access modes are possible to block HOME button access.


PC MODES: Slot 2 = Xbox 360. Slot 4 = PS4.


24 JOYSTICK MODES: Include: left-stick, right-stick, d-pad, menu buttons, shoulder buttons, driving modes, explore modes, retro modes, mashing modes, six-axis and PS4 touch-pad emulation.


SIMPLE JOYSTICK: Sticks can be turned into a simple CROSS/A (W6 mode) or CIRCLE/B (E6 mode) button. Push in any direction to trigger.


---
CALLIBRATION: GCM100 connected joysticks have advanced callibration. Improves response.


ADAPTERS: Adapter kits can make connection possible to Android, iOS, Playstation 2, Dreamcast and more.


SIP-PUFF possible to be retro-fitted or purchased up front (GCM100P).


LED Compass display helps players remember what mode they are in.


Created by Celtic Magic and OneSwitch.org.uk with support from ConsoleTuner.com.
Joysticks: Some of the joysticks available for the Game Control Mixer. See the accessories section above or get in touch.
LED compass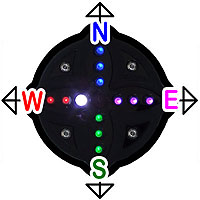 The LED compass shows the current joystick mode for 1-4 sticks.


Useful LINKS
Accessible Gaming Shop - More switches and mounting solutions. Also, many more complex devices that may work in the mix of GCM100 and Windows PC connection.